Important RVR/RVR+ Firmware Update - October 2022
Important RVR/RVR+ Firmware Update - October 2022
Updated by Sara Sampson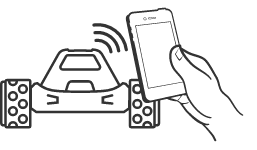 Starting in Fall 2022, a new version of firmware will be available for RVR/RVR+. This download will update the firmware for the Nordic SoC to version 9.1.462 and the ST SoC to version 9.2.482.
How Does this work for RVR and RVR+?
The new firmware update supports both RVR and RVR+
How Do I Update My RVR/RVR+ Firmware?
To successfully update your RVR firmware, you'll need:
Your Sphero RVR/RVR+
A supported iOS or Android device, with Sphero Edu installed. Learn about supported devices here. Please ensure you are using the latest Sphero Edu app. In particular, you will need Sphero Edu 6.4.0 or newer on Android to update the RVR firmware.
Ensure your Sphero RVR/RVR+ is charged and powered "on".
Start the Sphero Edu app on your supported device and connect to your Sphero RVR/RVR+.
The Sphero RVR/RVR+ firmware update will automatically start. Depending on your device, this may take between three and 7 minutes.
To confirm you have the correct firmware, click on the "connect" button and review the firmware numbers. You should see 9.1.462, 9.2.482.
Full Change Log
Added drive to distance command to support new Drive Distance block in Sphero Edu
Switched to improved color detection algorithm
Improved UART error recovery
Added UART loopback test - all LEDs turn white of a jumper is connected between RVR/RVR+'s TX and RX pins on power up
Added an option flag on Drive to Position commands to ignore the end yaw parameter
Fixed bugs in XY position drive controller
Improved yaw tracking during braking
Improved velocity target tracking during high speed turns